Users can't set up automatic forwarding of messages from user mailboxes to external email addresses by default in Microsoft 365 tenancy (previously known as Office 365). We'll teach you how to enable external forwarding in Microsoft 365 in this post (Exchange Online).
The message will not be transmitted if a user has established an automatic forwarding rule to an external address in his Microsoft 365 mailbox using Outlook (when the rule is triggered). The user will receive a non-delivery report (NDR) in this case:
Because the recipient's email service rejected it, your message was not sent.
'550 5.7.520' was returned by the remote server. External forwarding is not permitted in your company, hence access is blocked. For more information, please contact your administrator. AS(7555)'

External email forwarding will be deactivated by default in Microsoft 365 starting in September 2020.
The outgoing spam protection settings in Microsoft 365 may be changed, and automatic external forwarding for any mailboxes can be enabled.
Log in with your global admin account to the Microsoft 365 Defender Portal.
To find anti-spam policies, go to Policies & Rules > Threat policies > Anti-spam policies.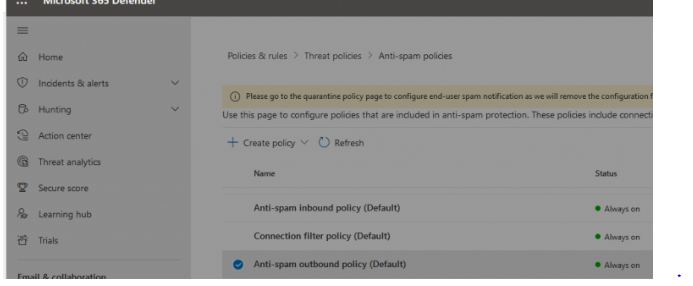 In the list, look for the following filter policy: Select Edit protection settings from the Anti-spam outbound policy;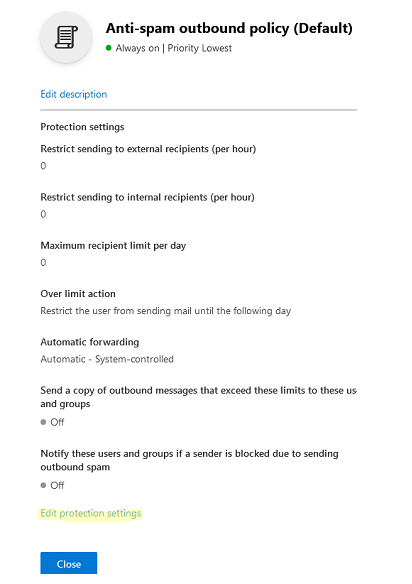 The Forwarding rules section contains settings for external forwarding rules. Automatic – System-controlled is the default setting for Automatic forwarding rules. To enable email forwarding, choose the option On-Forwarding is enabled from the selection menu.

Make a backup of your modifications.
Automatic forwarding to external mailboxes is now available in Outlook for all Microsoft 365 subscribers.
Automatic email forwarding can also be enabled for certain M365 mailboxes. You'll need to develop a separate antispam policy for this:
Navigate to Threat Management > Anti-Spam;
Create a policy > Outbound by clicking the Create policy > Outbound button.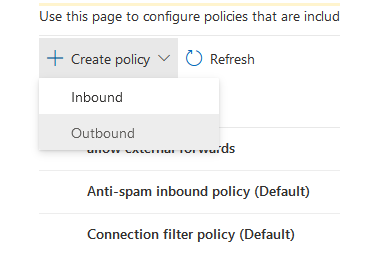 Give your new outbound spam filter policy a name and a description;
Select the Microsoft 365 users and/or groups for whom you wish external forwarding to be enabled. Another option is to adopt the following strategy: Select the individuals/groups for whom you wish to prevent email forwarding and enable the Exclude these users, groups, and domains option. Activate the option Automatic forwarding rules > On Forwarding;

To set a new anti-spam policy for outgoing mail, click Next, evaluate the policy, and then click Create.
External forwarding rules will now be enabled in Outlook for the chosen users. When establishing the rule, the rest will receive an NDR: your organisation does not allow external forwarding.
In addition to the outbound spam filtering discussed above, your Microsoft 365 business may have other transport rules or spam policies that restrict external forwarding.