Upgrading Exchange 2013 CU8 to CU12 below is the download link
Cumulative Update 12 for Exchange Server 2013 (KB3108023)
Also, follow the below link to know the Issues that have been fixed post upgrading to CU12
Issues that Resolved Post Upgrading to Exchange 2013 CU12
Download the Installation pack then extract it in any folder that you want to or can easily access and run the downloading process from…

File has been successfully extracted.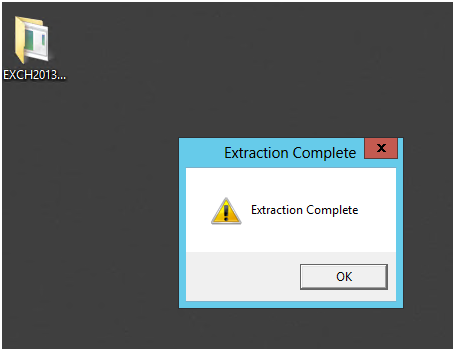 You have to download RSAT-ADDS if you want to prepare AD before upgrading its version.
Important: we need to add features to the 1st server.
Add windows feature- RSAT-ADDS
It may ask to restart the server then just go ahead restart it to continue installation.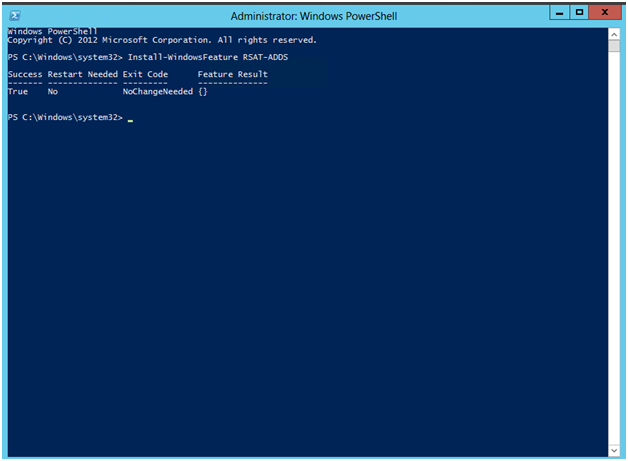 Because we're doing an upgrade and the Exchange server has to communicate with AD, please double-check that replication is working properly before proceeding….

Access your extracted setup folder
Run setup from there

Preparation of active directory:
1- Prepare schema:
Command: Setup.exe /PrepareSchema /IAcceptExchangeServerLicenseTerms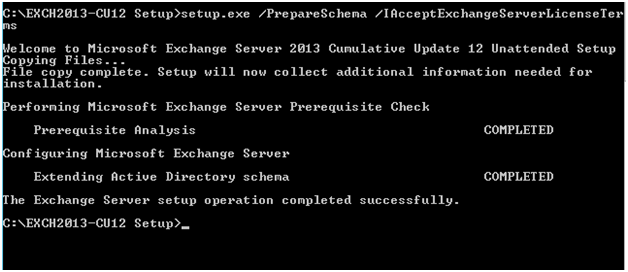 2- Prepare AD:
Command: Setup.exe /PrepareAD /IAcceptExchangeServerLicenseTerms

2- Prepare all domains:
This option depends upon no. of domains you want or you have. Depending on that select prepare domain or prepare all domains (in case more than one)
Command: Setup.exe /PrepareAllDomains /IAcceptExchangeServerLicenseTerms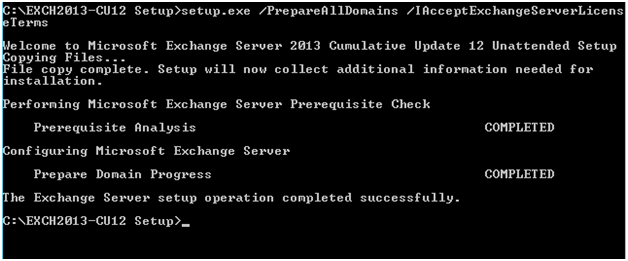 After completing active directory just to be sure run command dcdiag /Sthen double check for any errors before downloading or upgrading server
Ad is prepared. Now we will upgrade
For upgrading, you have two ways
Installation in the Attended Mode, which is nothing more than a graphical user interface (GUI)
The installation can be done in an unattended mode using the command prompt…..
Exchange CU12 upgrade
Command:
Setup.exe /M:Upgrade /IAcceptExchangeServerLicenseTerms
Fresh needs specification of the switches…
/M : Mode
/R: Roles
You need to mention if you want to download the server with role specific,
Ex: Mailbox & Client Access Role
Command:
Installation command
Setup.exe /M:Install /R:MB, C /IAcceptExchangeServerLicenseTerms
Upgrading command
Setup.exe /M:upgrade /IAcceptExchangeServerLicenseTerms
 Setup has started…..

Configuration Prerequisites and Prerequisites Analysis will be completed first, followed by Microsoft Exchange Server configuration, as illustrated below: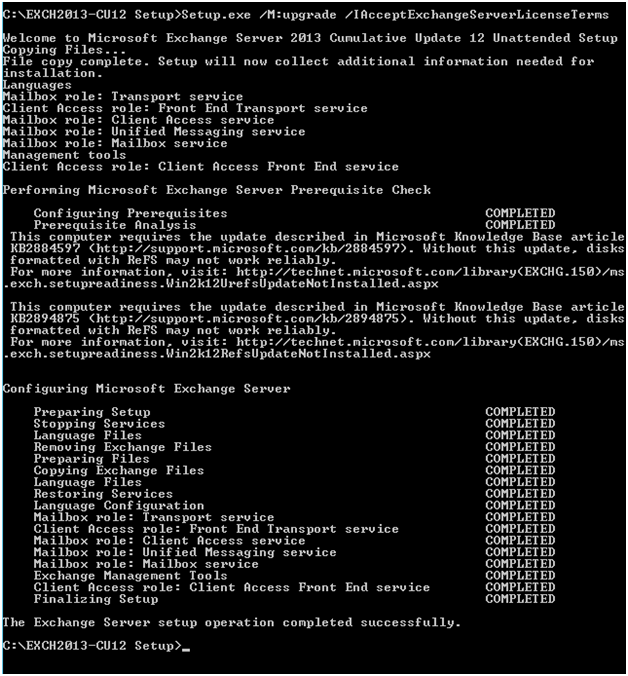 The installation went well….
Let's have a look at the admindisplayversion, which is given below:

After logging into the Admin Center, the server must be rebooted….
Also, conduct tests such as
Mailflow test
ServiceHealth check
Mapi connectivity tests