ExMon (Microsoft Exchange User Monitor):
It is a tool which is used to recognize and solve the problems of Exchange server (2003, 2007, 2013, 2010 and 2016)
By using this tool the administrator can reach to the following:
User interaction or activity
Mail bank or mailbox
Incoming mails could be the main issue and it can give us the information of usage pattern
Profiles or IP addresses used.
Microsoft office outlook versions or mode ( modes like cached exchange mood or classic mode )
Outlook client side controlling data.
Resources:
Usage of CPU
Server side processor latency (response time for network and handling time of outlook2003 or later editions of MAPI)
Network bytes
Download the ExMon for Exchange 2013 & 2016 https://www.microsoft.com/en-us/download/details.aspx?id=51101
Installation:
Start downloading by clicking the download button.
Do one of the following according to your need:
To install now, click RUN
To install later you have to save the download, click SAVE.
To cancel installment, click CANCEL.
For installation of Exchange server user monitor follow instructions given in the 'using-ExMon.doc' which is located in self extracting folder.
After Installing while running we are getting error : UnKnown StartTrace error (183)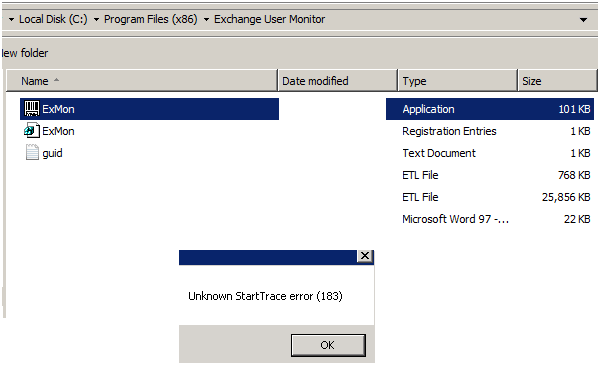 The reason of this error is an Old Event Trace continuation in background. To stop this old trace we will use a tool called Traceklog.exe in an older version found in Window servers like (win2000 and 2003)
But if you have server 2008 or above you can stop old event trace by using tool called Logman.exe

If its running then stop it by using following command:
logman Stop "Exchange Event Trace" –ets

Alternative:
If the command doesn't work then you can use server manager to stop it.
Whenever you will use ExMon it will create its own session:
Server Manager -> Diagnostics -> Performance -> Data Collector Sets -> Event Trace Sessions -> Exchange Event Trace ExMon will work accurately after stipping this if not then check whether you drive is running out of space or not if not then restart the server and check again