Post Index:
Recover positive identification via router "non-encrypted" computer's file exploitation.
An old technique to recover identification exploitation computer's file via UNIX/LINUX

Recover identification from explicit versions exploitation exploit [added August 2019]
According to Mikrotik WIKI's and other forums data, it is inconceivable to recover passwords while not resetting the complete Mikrotik box (resulting in loss of all configuration also). but following square measure few strategies to recover the identification.
1# Recover positive identification from computer file employing a web site
https://www.mikrotikpasswordrecovery.net/

If you need it on urget basis, you'll email American state your config, and that i can recover it for you, simply just in case if you don't have UNIX or urgency is needed. ensure the computer file is formed exploitation don't use encryption technique.

2# Recover positive identification by mounting Mikrotik x86 ver fixed disk in UNIX LIVE CD and do recovery [not updated since last year, it absolutely was tested with ROS five.x seriesn)
2# Recover positive identification from computer file exploitation UNIX [working as of April 2014]
Login to your Ubuntu / UNIX Box,
Download mikrotik positive identification recovery tool and compile it by following commands,
 sudo apt-get update
 sudo apt-get install build-essential g++ libssl-dev libcurl4-gnutls-dev libexpat1-dev gettext libz-dev
 mkdir /temp
 cd /temp
 wget http://manio.skyboo.net/mikrotik/mtpass-0.9.tar.bz2
 tar jxvf mtpass-0.9.tar.bz2
 cd mtpass-0.9
 make
  
 #If you receive *error* after issuing make command, then you can use following command to compile it in desi JUGAAR (workaround) way hehehehe
 g++ mtpass.cpp -lgnutls-openssl -o mtpass 
Now upload/copy your Mikrotik computer file to /temp folder ( Either exploitation WINSCP interface tool, WEBMIN File Manager, via USB or the other technique you like)

Now Issue the subsequent command
./mtpass /temp/zaibmikrotik.backup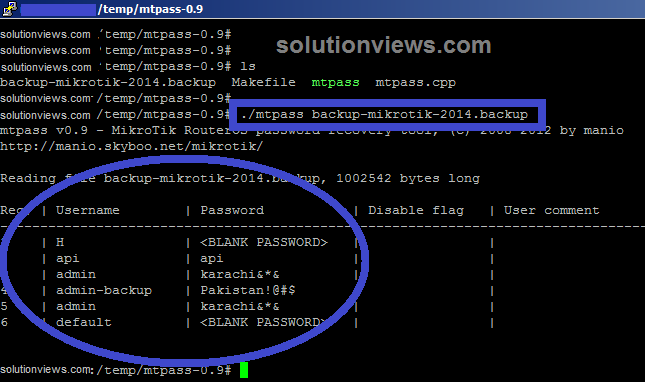 # Recover positive identification of Mikrotik x86 laptop Version while not computer file – Tested with Mikrotik five.18 version:
Boot from Ubuntu LIVE CD
(I used Ubuntu nine.1 Desktop CD during this example, you'll transfer it from following link.
http://old-releases.ubuntu.com/releases/karmic/ubuntu-9.10-desktop-i386.iso
Select "Try Ubuntu"
As Shown within the image below .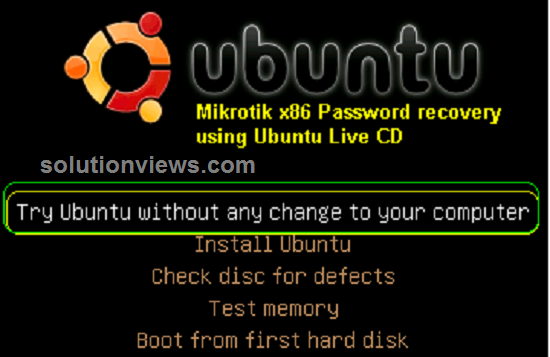 After you see Desktop, Open TERMINAL from APPLICATION > ACCESSORIES > TERMINAL

Now modification to root user by
sudo su

Now check your partitions by supply
fdisk -l

you will see one thing like below image.

You partition will be totally different, use your judgment to ascertain what partition mt is in, either by mounting it one by one.

Now mount it any folder , as an example

mkdir /temp
mount -t machine /dev/sda2 /temp

Now check its content by ls /temp and you may one thing like below image

Now Copy the 'mikrotik positive identification file', (in newer ROS , it's set in /rw/store/user.dat) to USB flash drive, it'll be wont to decrypt the positive identification.
(The USB flash drive ought to be 'plug and play' in Ubuntu Live. simply plug it in usb port and it'll seem on desktop in few seconds , otherwise you can even copy it your network laptop via configuring interface local area network card accordingly)
(Note: In older ROS it's /nova/store/user.dat)

Now closing live cd.

Then Boot from your Ubuntu box, and use the tactic # a pair of , represented earlier during this article to decrypt positive identification exploitation mtpass tool from this file.

Copy the user.dat file wherever you have got decompressed mt positive identification tool . e.g /temp , currently use the mt pass tool to recover positive identification from this file.

./mtpass user.dat

and you may see your admin positive identification.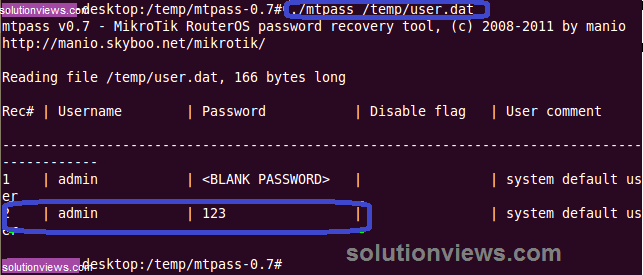 As currently you have got seen the positive identification currently, you'll login into mikrotik laptop router along with your recent positive identification positive identification positive identification positive identification

Also it's doable for you to send associate degree SMS to your router, tell it to run a script (parameters supported) and therefore the router will even respond, because it conjointly supports SMS sending! Additional here:
http://wiki.mikrotik.com/wiki/Sms

You can setup associate degree script simply just in case you forgot your positive identification , and via causing sms, it will reset it to default. or send you come the new/original positive identification.