Error: Setup needs to contact the Active Directory schema master, but this computer isn't in the same Active Directory site as the schema master (Admin) exchange server 2013.


Now check the number of domains.
Checked the FSMO Roles pointed to Domain Controller

Solutions
By adding the Registry String Value as Default Site
or
By Moving the FSMO roles to the Domain Controller Exchange server is pointed to.
Here we will opt for the second (2nd) solution.
To check, you can go to the Network Control Panel (ncpa.cpl) or by command.
By Command Prompt
Use thi queryfor Domain in the environment.

netdom query dc (This will display list of domain controllers)
Not type nslookup to see DomainController Exchange Server is connected to.

After confirmation, ping the server IP with switch -a.
Switch -a displays the name and ping status, when pinging.


ping -a "IP address"
Now Moving the Schema Role (FSMO Role) to the Domain Controller Exchange Server is connected to…

Using this command
NTDSUTIL.EXE
NTDSUTIL.EXE is a command line tool, providing management facilities for ADDS (Active Directory Domain Services) &ADLDS (Active Directory Lightweight Directory Services). It can be used to perform database maintenance of AD DS, manage and control single master operations, and remove metadata left behind by domain controllers that were eradicated from the network without being completely uninstalled.
Note: This tool is for experienced administrators.
Now, Run as Administrator the Command Prompt.

Type ntdsutil and roles as shown.

Press Enter


Now type FSMO Maintenance: Connections
Press Enter
Now Type the Domain Controller to be moved

Now Domain controller is bound to are trying to connect.
It will connect to local user account; you need to discard connections. Type Quit Press Enter
Now Type the Role to move
A prompt will appear "Are you sure you want the role of Schema Master transferred to the server – Server Name"
Click on YES.
Now that, you have moved it, you have to quit from FSMO maintenance and ntdsutil as shown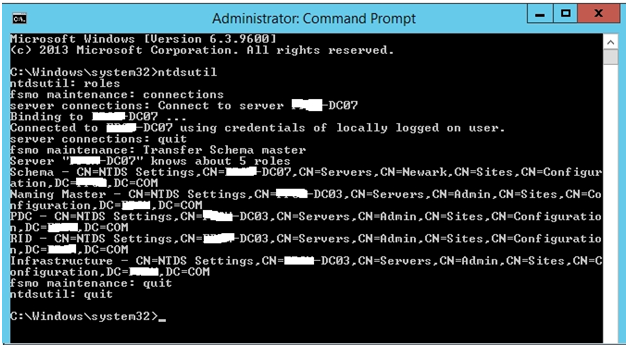 Now you can confirm that the action has been performed by command netdom query fsmo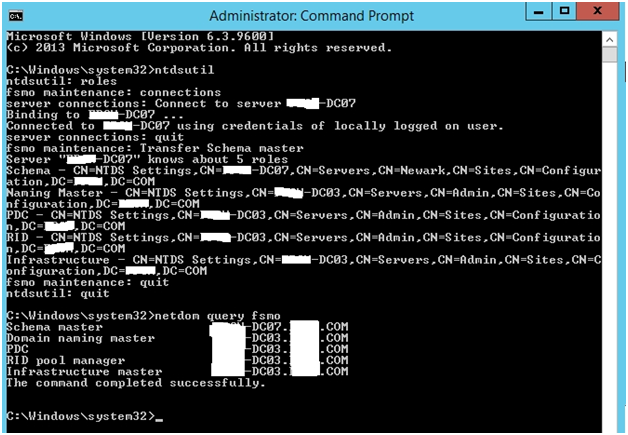 Now install Exchange Server. After completion, move the role back to Domain controller which it earlier pointed.
Role back FSMO Role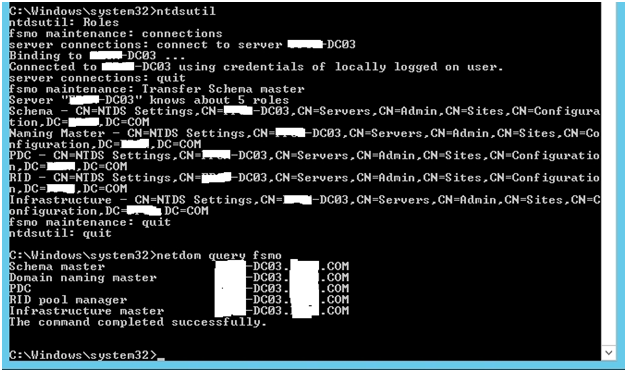 To check if the Exchange Server is installed properly, this is the process for verifying in adsiedit.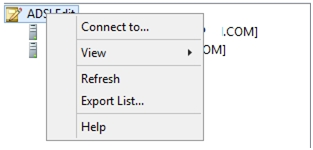 Connect to ADSIEDIT.Right-click on adsiedit and click on connect to schema under.
Click on Connect and "Select a well known Naming Context" -> dropdown select -> Schema Partition as shown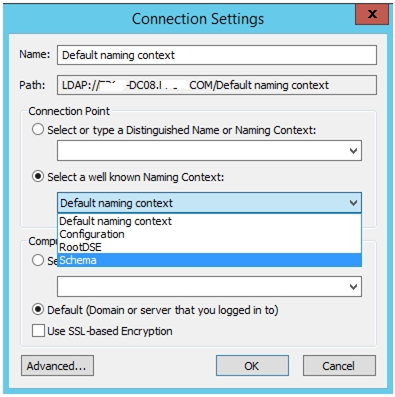 Now, you can see schema with domain name. Click on Expand
Now, on the right side of page right click the attribute CN=ms-Exch-Schema-Version-Pt & click on properties.

Under attribute editor, select range upper.
Note: If you get Null value then select Filter and click on "Show only attributes that have values" so that you can see the values with attributes.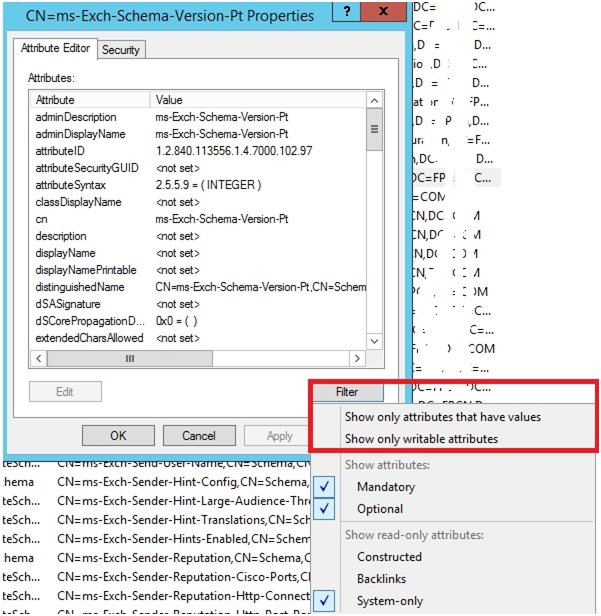 Under the Attribute Editor select "Range Upper" the value for Exchange 2013 should be the value 15312 as shown