Almost every Outlook user has experienced a situation when the software will not launch. And, more often than not, it occurs at an inconvenient and inconvenient moment! Today, we'll look at a few quick ways to get Outlook up and running. If you get an error after starting Outlook, Microsoft Outlook will not launch. The Outlook window will not open. The folder set can't be opened. Microsoft Exchange isn't working. Whether there are network issues or the Exchange server is offline for maintenance, you should first verify your network connection and mailbox server access.
How Do I Fix Microsoft Outlook 2016 Won't Start?
Examine Your Network Connection
Use the ping and tracert commands to test your connection to the mail server, then try accessing your inbox using a web browser (OWA in Exchange, or https://www.google.com/gmail/about/ if you're using Gmail).

Kill Outlook.exe Process
If the mail server is available, open Task Manager (SHIFT+CTRL+Esc), switch to the Details tab. Find and terminate all outlook.exe processes (Right click -> End task).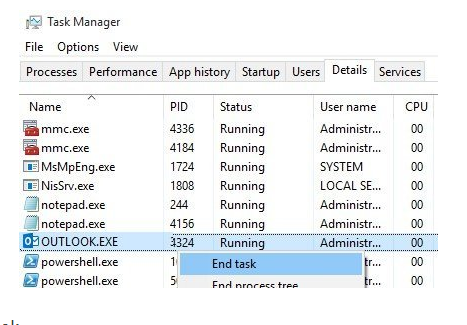 After that start Outlook.
Run Outlook in Safe Mode and Disable Add-ins
Try to run Outlook in Safe Mode, by running the command:
Outlook.exe /safe
In case the Outlook succesfully started in Safe Mode, disable additional and third-party extensions: File -> Add-ins -> COM Add-ins -> Go -> Clear all COM add-in checkboxes.

Tip. You can also disable all add-ins in registry by deleting the following registry keys (just in case, create a backup of these keys first!):
HKEY_LOCAL_MACHINE\SOFTWARE\Microsoft\Office\Outlook\Addins
HKEY_CURRENT_USER\Software\Microsoft\Office\Outlook\Addins
Close Outlook and try to start it in the normal mode. If this solution helped, turn on the add-ins sequentially and restart the Outlook until you find a problem extension.
Navigation Pane Reset
Outlook may be unable to start owing to a corrupted Navigation Pane profile. You can remove the file Outlook.xml in the folder percent appdata percent MicrosoftOutlook to launch Outlook with an empty Navigation Pane settings.
Alternatively, run the following command:
outlook.exe /resetnavpane
Corrupted PST file
If during the Outlook start you receive error Cannot start Microsoft Outlook. Cannot open the Outlook window. The set of folders cannot be opened. An unexpected error has occurred – most likely, your PST file with mail items is damaged.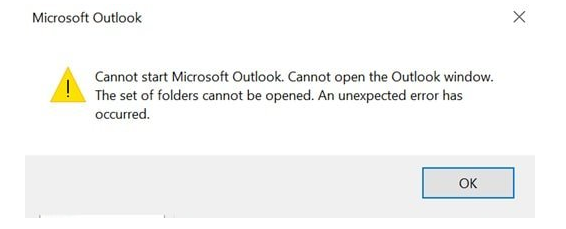 You can try to recover it using built-in tool Scanpst.exe. You can find this utility in one of the following folders:
x64 Office – C:\Program Files \Microsoft Office\root\Office16
x86 Office – C:\Program Files (x86)\Microsoft Office\root\Office16
Run Scanpst.exe after killing the outlook.exe process (and any other processes that use the pst file). Using the Browse button, find your pst file (by default you can find pst files in the folder C:\Documents and Settings\ percent username percent \Local Settings\Application Data\Microsoft\Outlook).
All that is left now is to tap Start, and the application will begin checking.
Scanpst will display the scanning results after it is finished. All we have to do now is press the Restore button.
Because this tool can only scan one file at a time, this step must be performed independently for each file.
After that, you'll be able to use Outlook.
If none of the preceding techniques worked, try creating and configuring a new Outlook profile (Control Panel -> Mail item -> Add) and reconnecting your PST files (Control Panel -> Mail item -> Add).