Office 365 Message Encryption (OME) is a sophisticated security feature in Microsoft 365 that allows enterprises to securely transfer critical information by encrypting Outlook emails. To send and receive encrypted email messages inside and outside your business, Office 365 message encryption takes advantage of Azure Information Protection's capabilities.
If the sender has given you permission to access the protected email, you should open it in Outlook on Desktop or in a browser (Office 365 Email).
If a user is unable to open an encrypted Office 365 email, there might be numerous causes for this.
When encrypted communication is delivered to an external receiver, he must authenticate in order to read it. If the receiver already has a Microsoft account and is using Outlook, he will be able to view the email without having to do anything more. An encrypted symbol will be included in the email.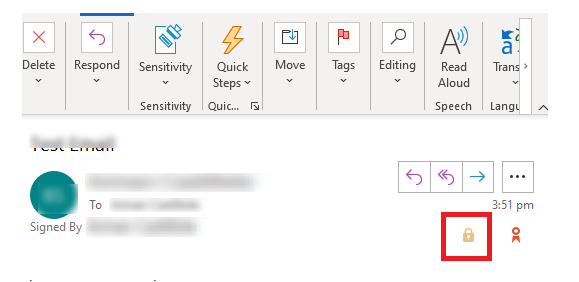 If the user uses a different email platform (such as Gmail or iCloud), he will get an email with the following attachment (message.html):
xx@xx.com has sent you an encrypted message.
To see your message, click here.
Save, open, and follow the instructions in the attachment (message.html).
Use the following email address to log in: xxx@gmail.com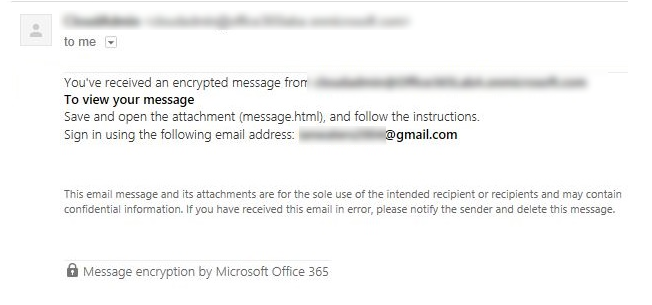 You must authenticate at the Office 365 Message Encryption Portal (OME Portal) by following the link. The mechanism of authentication is determined by the email client. You may be asked for your user credentials or a one-time code, which will be delivered to you in a separate mail.
Sign in with a Microsoft account, your work or school account, or a one-time passcode to see the message.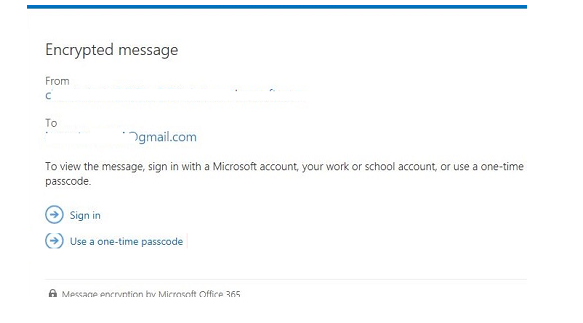 When using a Microsoft account or a one-time passcode to authenticate, you may obtain the following errors:
There has been a mistake. Please accept our apologies. There has been an unidentified mistake. Please come back later and try again.
Or:
We're sorry, but we're unable to show your message at this time. Your encrypted communication could not be accessed due to an error. Please try again in five minutes by following the instructions in the original email message.

Try signing out of all Microsoft Office products on your device, signing out of your Microsoft account in your browser, restarting your computer, and attempting to authenticate again.
Install and use Outlook for Mobile if you wish to view emails on an iOS/Android mobile device. The native iOS email app does not support Office 365 encrypted emails.
When you receive an encrypted message in an other alternative app, you'll see the following text (along with the encrypted message file with the *.rpmsg suffix — Rights-Managed Email Message):
Microsoft Information Protection has been applied to this message. Microsoft Outlook, which is accessible for iOS, Android, Windows, and Mac OS, may be used to open it. Install Outlook on your mobile device.
Microsoft Information Protection ensures that no one may copy or forward your emails without your consent.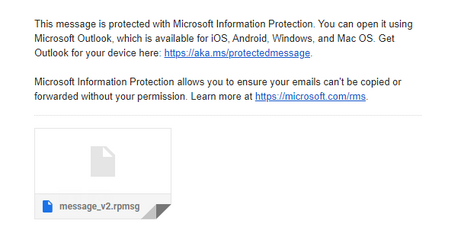 Make sure you're connected to the Internet if you can't open an encrypted email using the desktop version of Outlook (2016/2019/365) or Outlook on the web. The simplest method is to open your browser and go to any external website.