The user and administrator can easily clean up and archive items in a user's mailbox using Office 365 retention policies. Retention rules allow you to set a trigger action to an item after a specified amount of time has passed (for instance, move the item to the archive mailbox or delete it permanently). Retention policies in Office 365 can be used to remove email items from a user's mailbox that are older than a certain date. Retention policies are applied by default to the Deleted Items and Junk Mail folders, removing items that are older than 30 days.
By default, retention policies do not apply to other folders in the inbox (except for Deleted Items and Junk). However, the user can manually set retention tags for certain folders. For example, a user wants to automatically delete old messages from the Newsletter folder after one year. He can manually set the Retention/Archiving Tags for email items in your Office 365 mailbox.
Go to https://portal.office.com/ and log in to your Microsoft Office 365 account.
In the App Launcher, go to Outlook;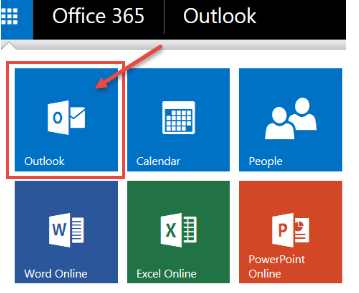 Right-click on the folder or email message for which you want to adjust Retention/Archive options in your mailbox's interface;
Choose a policy from the drop-down menu. Keep in mind that the Retention policy settings (Use parent folder policy) are inherited by default from the parent folder.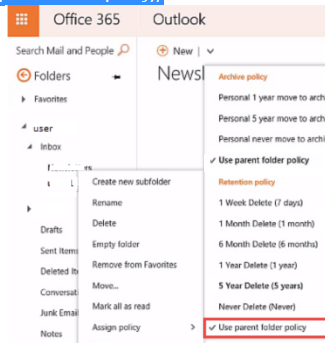 If none of the default retention policies suits you, then create your own custom retention policies with the parameters you need:
Select Settings > Options. Go to Automatic processing > Retention policies;
Click the + button and create your own custom retention policy with the parameters you need;
Following that, you can apply your custom retention policy to the required items in the Office 365 mailbox's Inbox folder.
Custom Retention tags and Retention Policies can be created and assigned to user mailboxes by an Office 365 administrator.
You must enable users' archive mailboxes in order to use particular Retention Policies. Go to Security & Compliance Center > Governance > Archive in Office 365 Security & Compliance Center.
Select the user mailboxes you wish to enable archive mailbox for and click the Enable button on the right sidebar;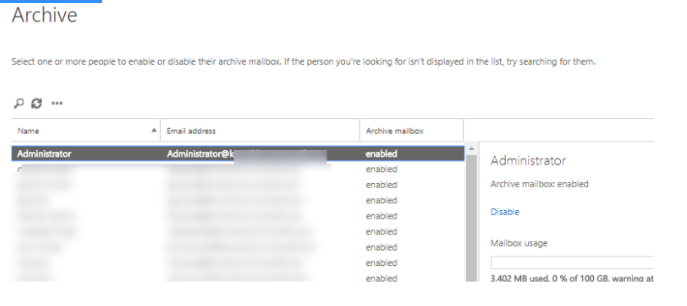 Now go to Exchange Admin Center > Compliance Management > Retention Tags;
Create a new Retention Tag with the required parameters (+ > select applied automatically to the entire mailbox). For example, we have created a tag named "3 Year move to archive", Retention action > Move to archive; Retention period > when the item reaches the following age (in days) > 1095;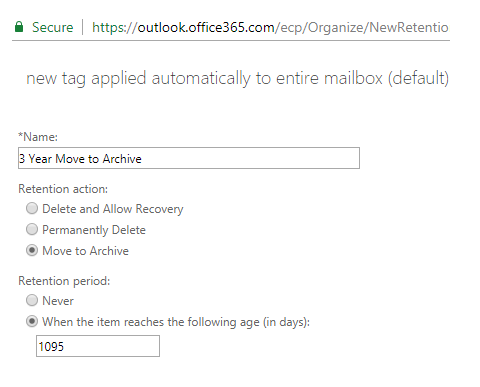 Then go to Exchange Admin Center > Compliance Management > Retention Policies. Press the + button;
Name the Retention Policy and add retention tags you want to apply to user mailboxes;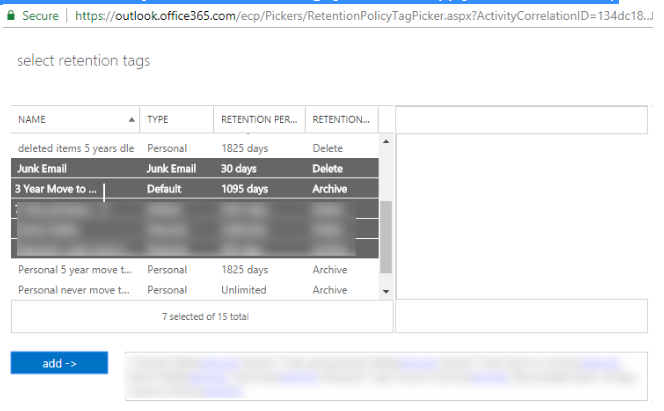 The policy must then be assigned to User Mailboxes. Go to Recipients > Mailboxes in the Exchange Admin Center. Select the mailboxes for which policies should be applied, then go to More options > Retention Policy Update. Select a new retention policy you generated previously from the drop-down list on the Bulk Assign Retention Policy form.