The process of replication requires a primary and a secondary host. A VSS writer is a mechanism that creates application-consistent backups & here on the primary host, it creates a snapshot of the virtual machine. This snapshot is then copied to secondary host by the Replica function. By this, the data center administrator is allowed to have a standby server with replication of the VMs at an instant notice. Using HTTP and a high-end PC as the secondary host, the tool enables the replication of VMs across the internet as well. This is how administrators store VM copies economically off-site.
Sometimes you might keep only one spare VM copy that could be run when the original fails to run. By Implementation of high availability, you have one example of a virtual machine. The software running inside the VM is not safe from corruption by high availability. You may copy the machine regularly to tackle the issue of software corruption. You can backup VM & its storage. Although it is a good practice, but it is time-consuming and resource instensive. Also because you have backup again and again, you cannot have an exact copy of that VM.
What's new in the Hyper-V on Windows Server 2016
Compatible with Connected Standby
Discrete device assignment
Encryption support for the operating system disk in generation 1 virtual machines
Host resource protection
Hot-add and remove for network adapters and memory
Hyper-V Manager improvements
Integration services delivered through Windows Update
Linux Secure Boot
More memory and processors for generation 2 virtual machines and Hyper-V hosts
Nested virtualization
Networking features
Production checkpoints
Rolling Hyper-V Cluster upgrade
Shared virtual hard disks
Virtual machine backup
Shielded virtual machines
Start order priority for clustered virtual machines
Storage quality of service (QoS)
Virtual machine configuration file format
Virtual machine configuration version
Virtualization-based security for generation 2 virtual machines
Windows Containers
Windows PowerShell Direct
Requirements
2 physical machines, one with Hyper_V_01 2nd with Hyper_V_02
1- On the first machine Hyper_V_01, open Hyper-V manager, find Hyper_V_01 & right click it, now in the options, click on Hyper-V settings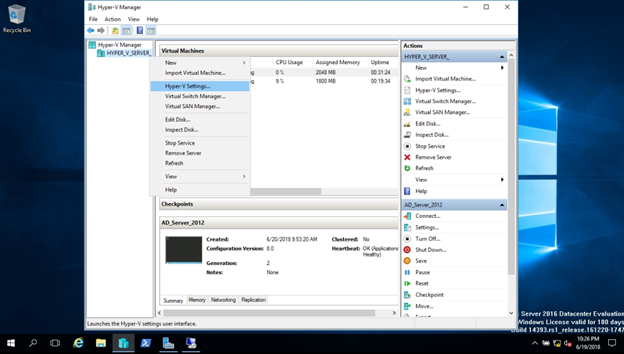 2- Now, click on replication configuration & now check box ✔️ Enable this computer as a replica server
Check ✔️ the first option Use Kerberos (HTTP) in the authentication & ports section.
Enter address F:\NEWVM-Replica\ in the Authorization & storage section, then click OK.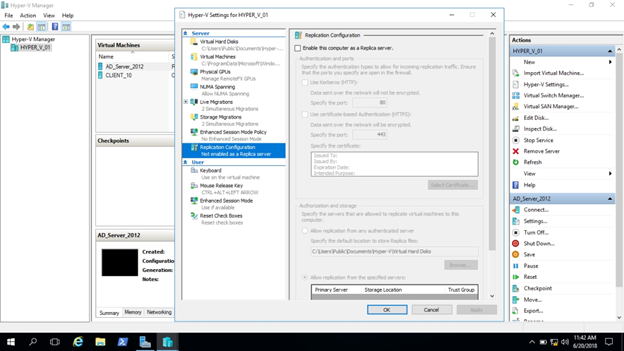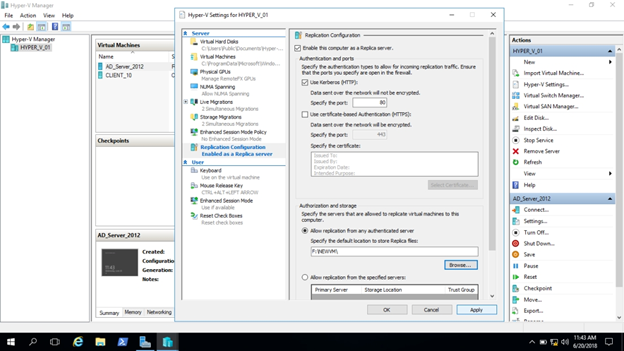 3- A settings dialog box appears, click OK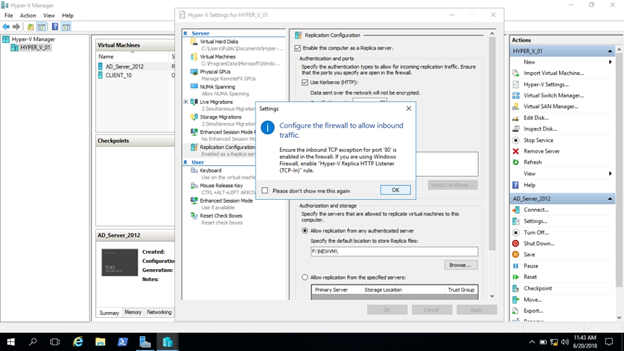 4- Now, Go to Windows Firewall & right click to enable the disabled rule for Hyper-V Replica HTTP Listener (TCP-In)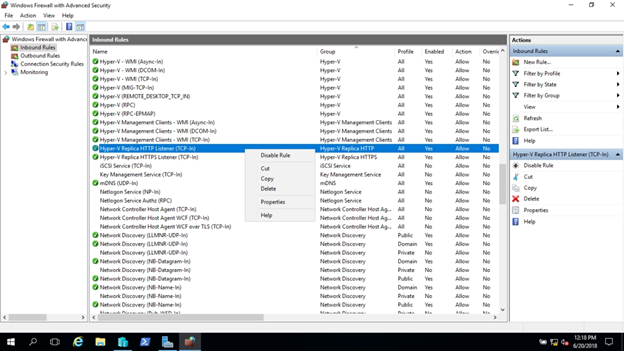 5- On the second machine with Hyper_V_02, repeat the above processes.
6- On the first machine Hyper_V_01, open Hyper-V manager and right click on AD_Server_2012 VM, then enable replication & then click Next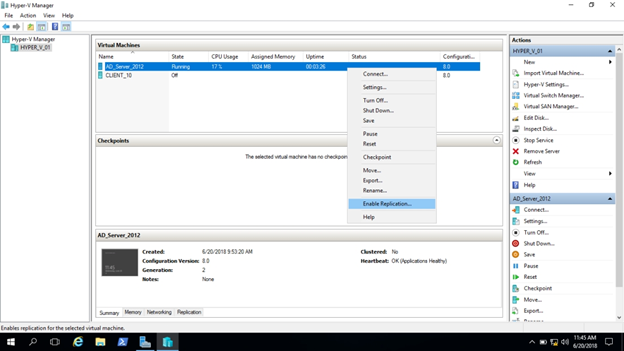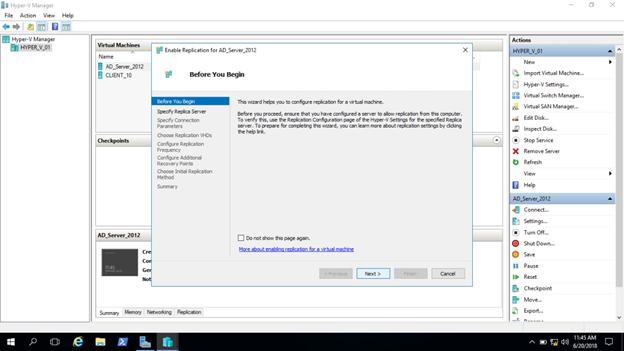 7- Now on the Specify Server Replica Interface, Browse & select Hyper_V_02 & click Next.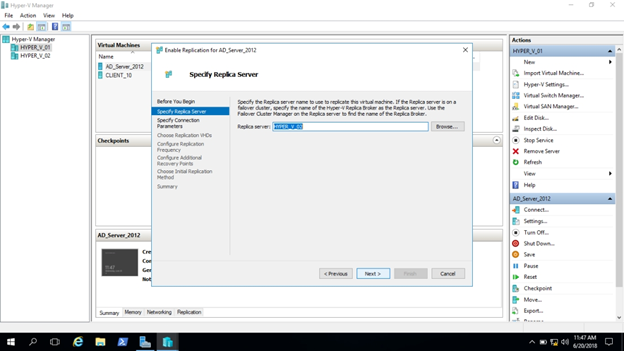 8- Now on the Specify Connection Parameters, make sure that Use Kerberos authentication (HTTP) & click Next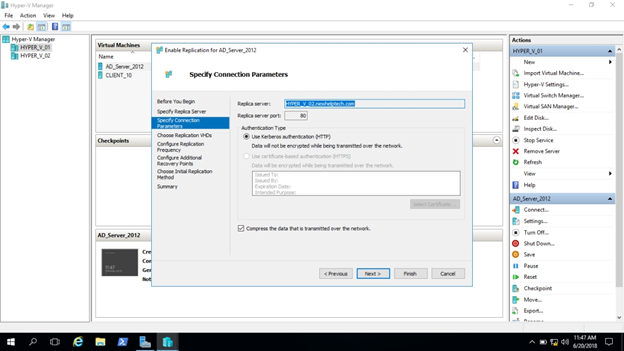 9- Now, on the Choose VHD's Replication interface, make sure to select VM and Click Next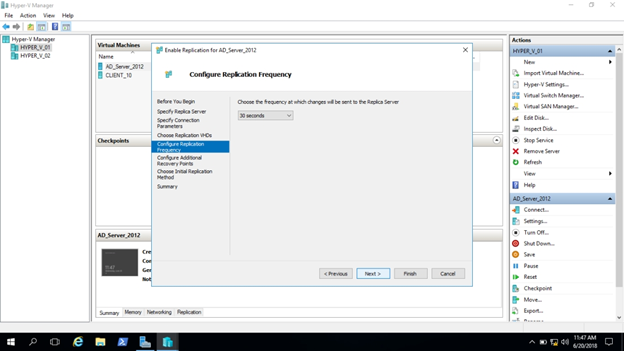 10- Now, on the Configure Replication Frequency interface, open drop-down list box and select 30 seconds, and then click Next
11- Now, on the Configure Additional Recovery Points interface, select the first option Maintain only the latest recovery point, and then click Next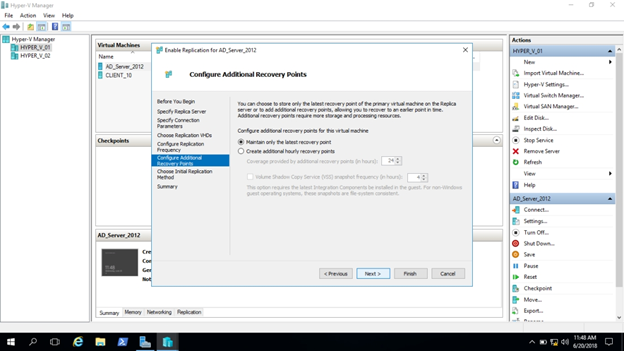 12- Now On the Choose Initial Replication Method interface, click the first option Send initial copy over the network and select Start replication immediately, and then click Next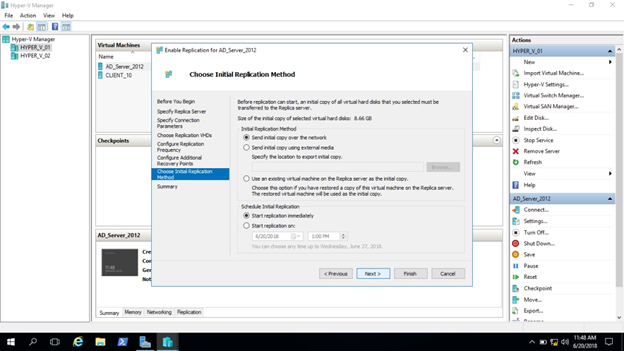 13- Now the Enable Replication Interface is completed, click on Finish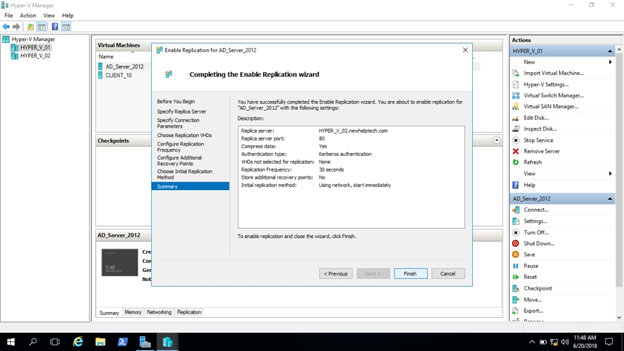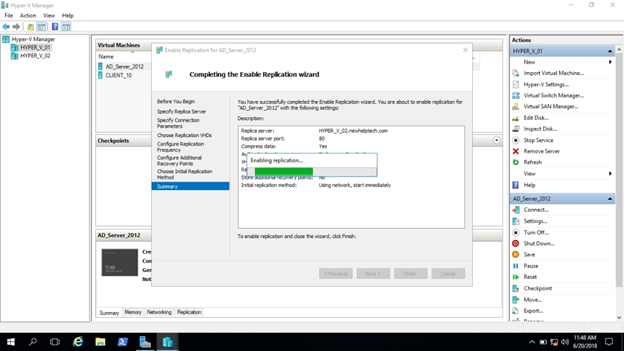 14- Wait for the replication.
The progress of initial replication can be monitored in the status column in the Hyper-V console.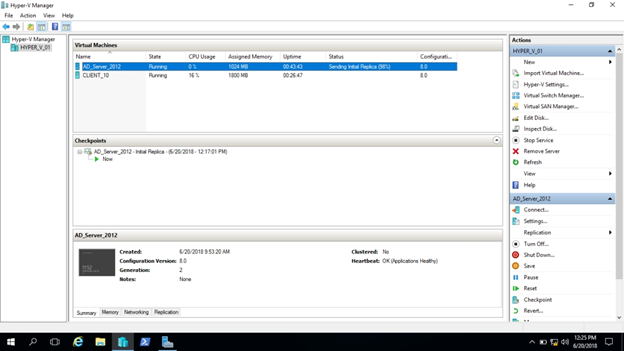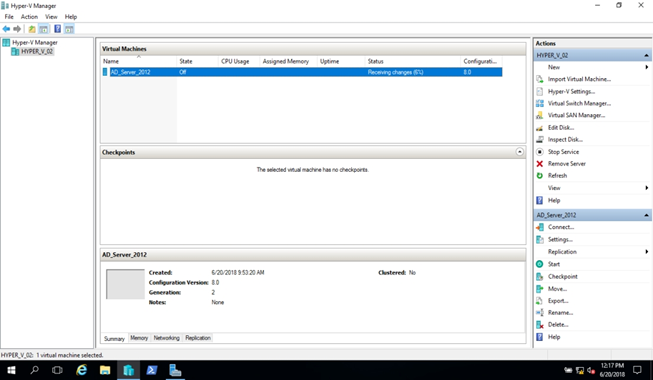 15- Now right click VM, select replication and click view replication health. It will validate the replication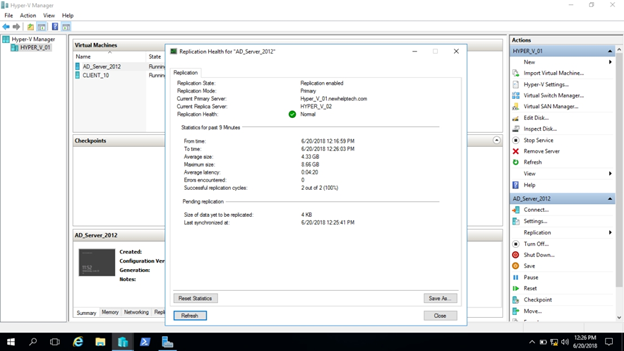 16- Lastly you can see an interface that verifies that there are no errors.