What, precisely, is Power BI?
Power BI is available as a desktop application and as a cloud service, both of which provides distinct but complementary capabilities. Data manipulation is only available on the desktop; visualization's and reports can be prepared on either platform; dashboards and report sharing are only available via the cloud. Additionally, there are mobile apps available for iOS, Android, and Windows that enable you to access your Power BI or SQL Server Reporting Services (SSRS) reports and dashboards on the go.
For the time being, you can access the majority of Power BI capabilities without paying – though Microsoft is hoping that you'll enjoy the free cloud service enough to pay $9.99 per month. The primary advantages of the subscription account are expanded data storage (10GB vs. 1GB), more frequent automated data refreshes, the option to construct enterprise-level "content packs," and improved streaming bandwidth.
Be aware, however, that Microsoft requires a corporate email address for Power BI cloud service registration — while it cannot screen out all non-commercial addresses, it will not accept known free consumer email addresses like as Gmail.com. Accounts with.gov and.mil domain names are also not supported for direct sign-up at powerbi.com, however accounts with.edu and.org domain names are.
Additionally, to utilize any of Power BI's free mobile apps, you must have a Power BI cloud account or access to your organization's SQL Server.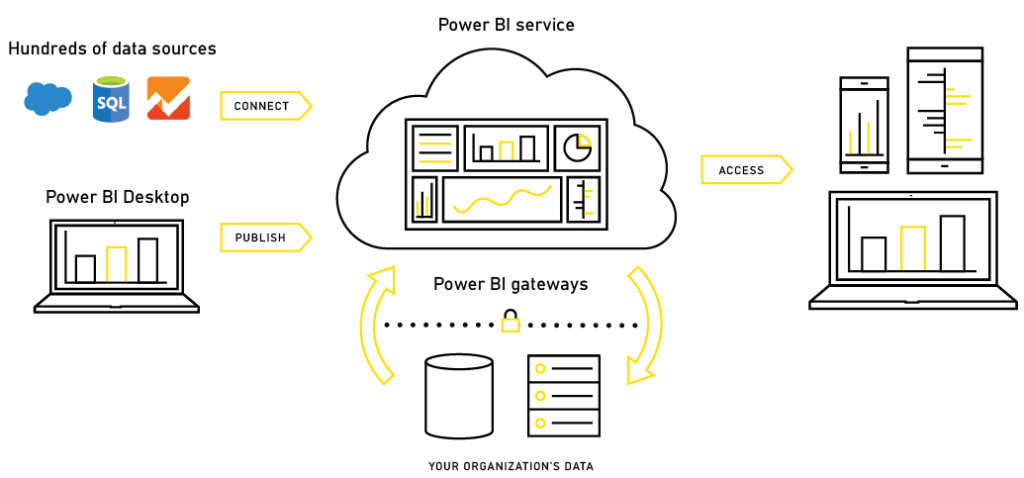 On the other hand, Power BI Desktop is not only free, but also does not require an account, an email address, or a credit card – all you need is a Windows PC.
In Excel, what is Power BI?
Analyze in Excel is extremely beneficial for datasets and reports that connect to Analysis Services Tabular or Multidimensional databases, or from Power BI Desktop files or Excel workbooks that contain data models with model measures built using Data Analysis Expressions (DAX).
Power BI for Office 365 is what it sounds like.
Power BI is a cloud-based corporate analytics package that enables anybody to connect to, visualize, and analyses data more quickly, efficiently, and accurately. Power BI is now included in the Enterprise E5 edition of Office 365.
What does "embedded" mean about Power BI?
Power BI Embedded is an Azure solution that enables developers to integrate interactive Power BI reports into their apps. Power BI Embedded integrates seamlessly with existing applications, requiring no redesign or modification of the user login process.
Which business intelligence tools are available?
The following are the primary broad types of business intelligence applications: Reporting and querying software is used to describe applications that extract, sort, summaries, and present data. Digital dashboards that utilize online analytical processing (OLAP).
In Excel, what is a power query?
Power Query is an Excel add-in that may be used for data discovery, data reshaping, and data fusion. Power Query is one of the Excel add-ins included with the self-service product Microsoft Power BI.
What does "business intelligence" refer to?
Business intelligence (BI) is a broad phrase that encompasses technologies, applications, and procedures used to collect, integrate, analyze, and present business data. Business intelligence is intended to assist businesses in making more informed decisions.