Dynamic lock:
Window 10 creator update
Dynamic Lock locks your Windows PC on its own when you're not active based on the proximity of a Bluetooth-paired mobile. (It may connect with other devices, but the main focus is phone-only on the moment. You're lucky if you get this feature working with a non-phone.
If you have more than one phone connected with your PC, they will all be taken into account. In other words, if you are too far away, any mobile phone will lock your PC. (I suspect this will be configured by policy, if not the end-user UI, in a future version.
That's because when your Bluetooth phone is used out of the range, a new feature called dynamic lock can automatically lock your PC.
Step 1: Connect your mobile:
                                    You must connect your mobile to your computer before you activate the dynamic lock. If your phone is already connected you can skip this step.
Go to setting select devices and then Bluetooth and other devices.
With the toggle switch turn on Bluetooth (turn you phone's Bluetooth on as well)
To ad Bluetooth or other devices click +
To add your device select add a device from pop up window and select your device
Confirmations will pop up on both devices allow them to pair.
In my case I phone was not in the list only my apple tv was but updating my laptop Bluetooth driver resolved the issue
Updating pc's Bluetooth driver:
Open device manager by clicking start and typing device manager then click to expand Bluetooth line.
Right-click on 1st listed item as Bluetooth USB module is mine then click update driver and then select search automatically for updated driver software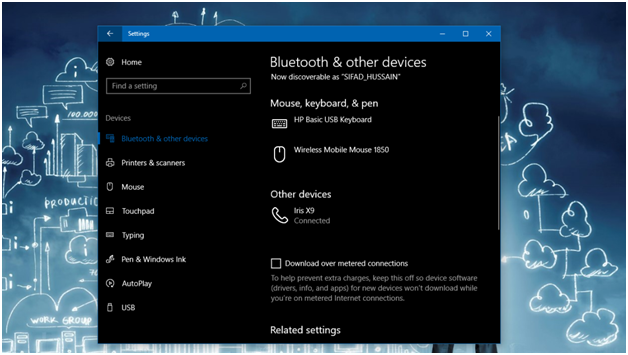 Step 2: active dynamic lock
After pairing phone and PC:
From settings select accounts and then select sign-in options from left.
Scroll down to dynamic lock and activate the option "allow windows to detect when you are away and automatically lock the device"
You're done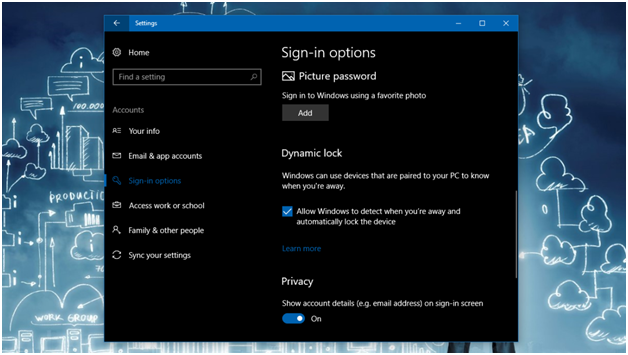 Unlock unavailable:
It's a disadvantage of dynamic lock that it only locks you phone and PC when you are out of range and not unlock them when you come back.